R. D. Davidson Shot down over Couterne.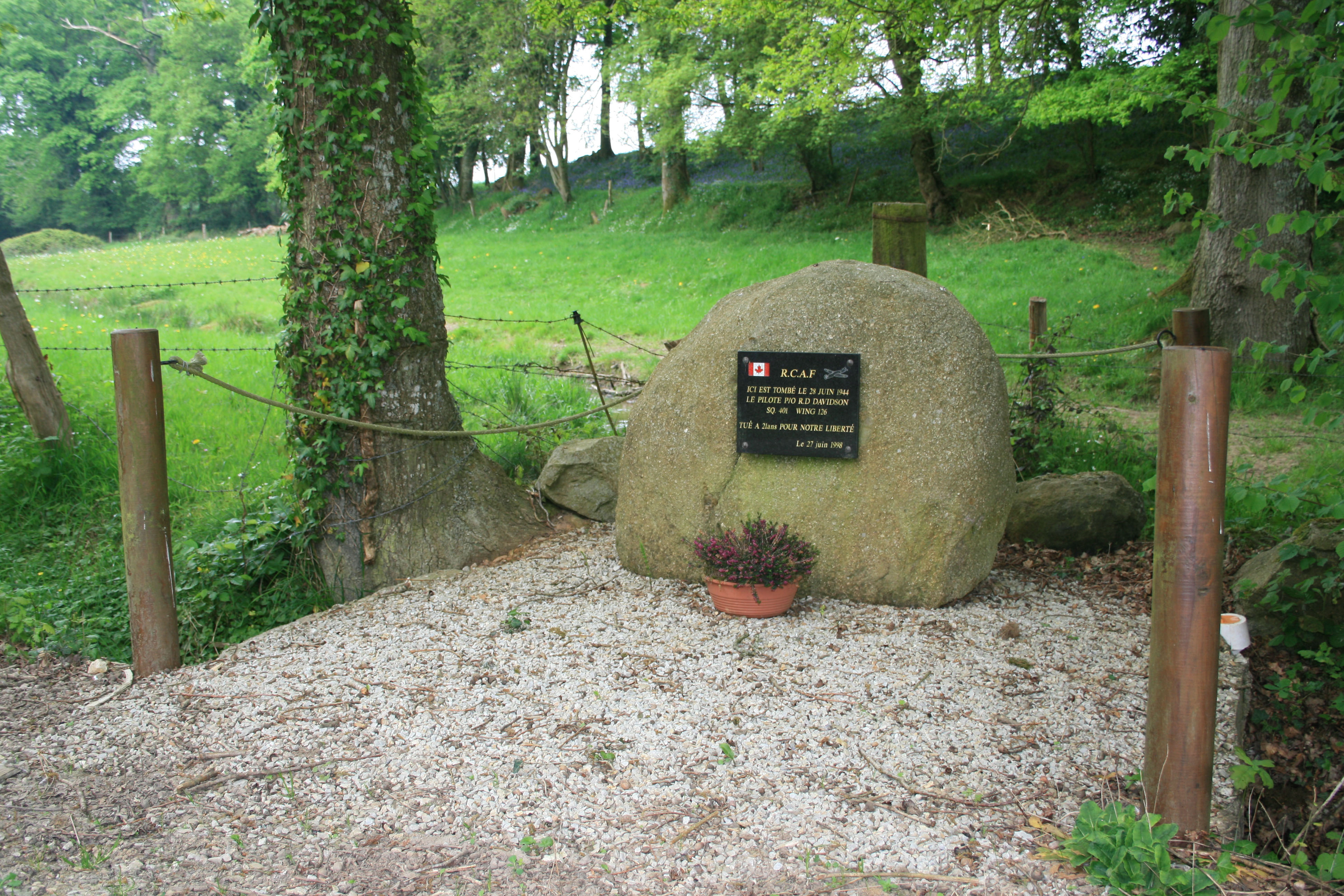 Our village (my adopted village), 50 miles south of Caen, was of course occupied by the Germans but didn't see any fighting untill the 13th of August when the americans (the 1st div the big red one – omaha beach) arrived from the south closing the Falaise gap.
But three weeks after D day on the 28th of June the skies were suddenly full of the sound of screaming fighter planes. One was hit and crashed to the ground near a stream north of the village. The engine landed in a farm yard 500yds away.
The local inhabitants were the first to arrive at the scene. On finding that it was an RAF Spitfire they got the body out and carried it away before the Germans arrived. They would have been in deep trouble if they were caught. He was burried secretly later on.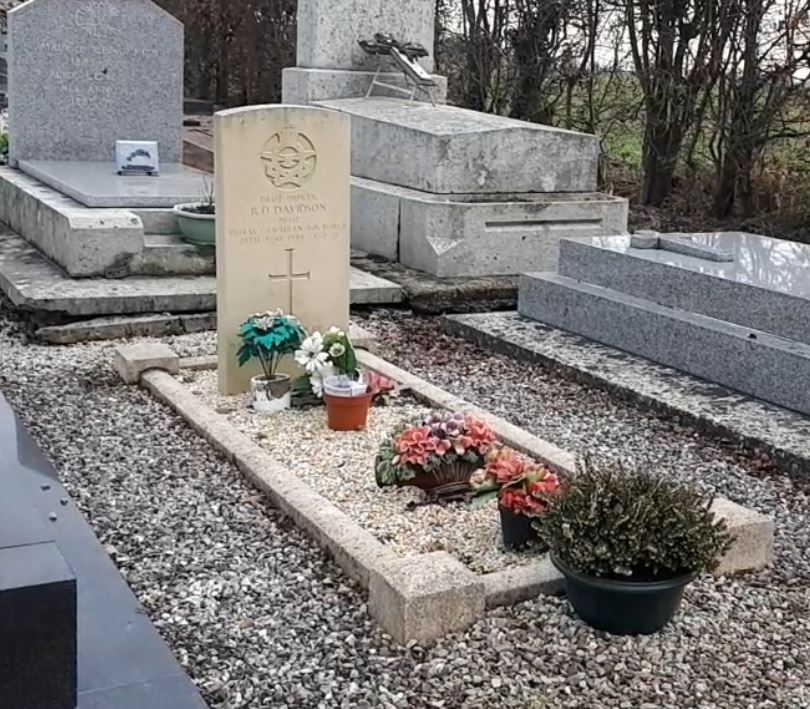 The pilot was Ronald Dunlop Davidson, a canadian pilot.
His service log was consulted in the public records office in London. It showed that he joined his unit on the 5th of June. The 7th of June they moved to an airstrip in Normandy (Beny sur Mer). Two days later a pilot made a trip to England and brought back some news papers and some real bread. An unfortunate incident happened. A plane landing on the muddy airstrip skidded and killed a soldier.
Davidson made several reconnaissance flights then on the 28th they met their first airborne adversaries. The log states
" 15 aircraft were airborne to carry out Armed Recce. South of CAEN. While straffing MET. The squadron was bounced by 12 FW 1908 s and a regular dog fight ensued. When it was over the squadron had destroyed four of the enemy aircraft but had lost two. F/O W.T. Kerry (CAN J. 12199) destroyed two. F/Lt W.R. Tew (CAN J.7097) destroyed one and F/Lt G.B. Murray (CAN J.15476) and F/Sgt R.D. Davidson (CAN R.151221) are reported missing. F/Lt Murray had to bail out behind enemy lines. Nothing is known of F/Sgt Davidson."
In 1945, after the liberation a memorial service was held in the memory of Davidson.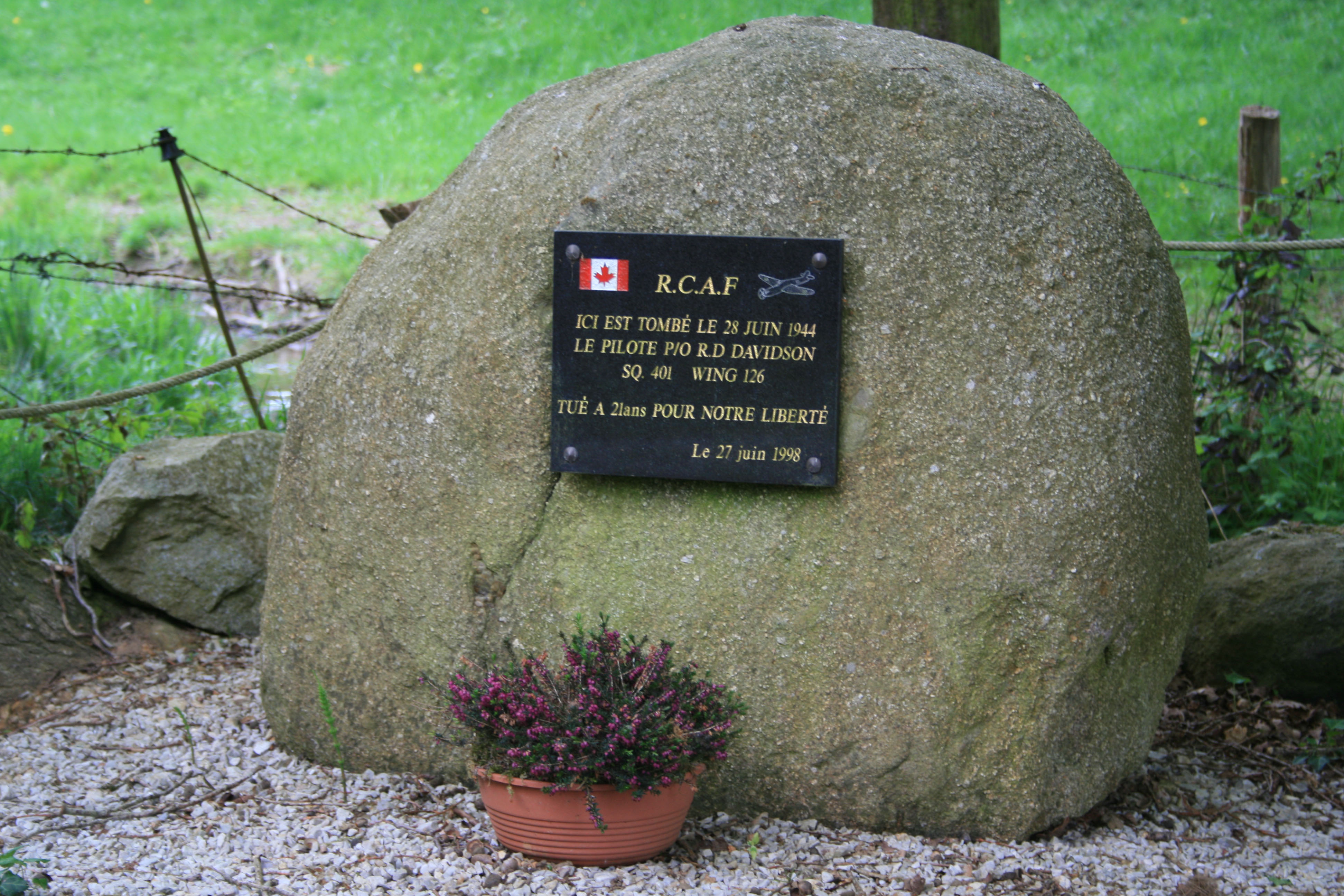 On the 28th of June 1999 our village erected a stelle on the sight of the crash. A memorial service was held on the site in the presence of the Canadian Consul.